After the great success of the spring season, The Nature-Train comes back in Tuscany, the steam train that takes you back in the past and represents a very particular trip.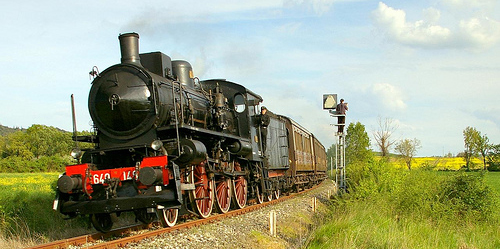 The idea of a tourist railway is of Anglo-Saxon origin, and recently it has been a successful event in Italy. The first association were born, in fact, in Britain at the beginning of 1950 with the purpose to preserve railway heritage and make it available to the curiosity of travelers. So many lines were recovered and it was given the chance to discover many new areas that were forgotten.
It's difficult to resist the charm of a travel by steam train, and especially the charm of the Siena territory, including Crete, Amiata and Val d'Orcia, which are worth to be discovered and admired, with its itineraries of art, nature and taste.
On the steam train you can also get off at various stations to reach villages and castles and to participate to many events, festivals, country manifestations and culinary parties, such as the Mushroom Festival, inVivo d'Orcia, between October and November, or the chestnut festival of Monte Amiata or the White Truffle festival in San Giovanni d'Asso.
So there are many possibilities for your stay in Siena during a journey by steam train, which is ideal for those who want to spend a day exploring the wonderful Tuscany with all its beauties and all its richness, and in Autumn reserves visitors landscapes of extraordinary colours and intense flavors.
E.C.