Corinaldo, a medieval city and of Renaissance, has got the best preserved defensive walls of the Marche region and they are the most fascinating and charming walls of all the region.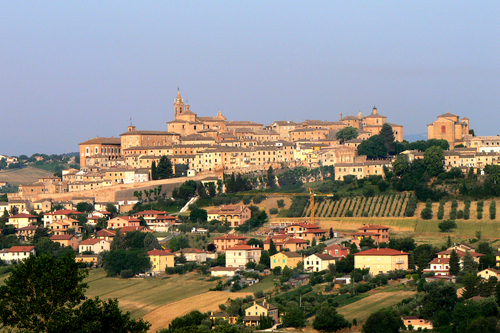 And it is possible to walk around the entire intact circle, which is about 912 meters long, with a suggestive guided walk once you arrive there.
The current perimeter dates back to 1367 and within the walls an urban structure is developed, that has preserved the same materials and also the same architecture of the past, and it gives the historical center of Corinaldo a very special and very suggestive aspect.
Its main center is the Piaggia, a staircase of one hundred steps where many red brick houses converge together and also it includes many noble palaces and civil and religious buildings.
Recently, Corinaldo has also been considered one of the most beautiful villages in Italy and it is loved especially for its gastronomic specialities and the character of its people, which are proud of their Orange Flag, which is the symbol of eco-tourism environmental and the Green Flag for agriculture.
The village is known in the Catholic world also because it is the birthplace of St Maria Goretti, which was declared a saint in 1950, and it is only 20 km from Senigallia, in Ancona, which is very near and where you will have the opportunity to stay, for example, in the Fortino Napoleonico, with its particular shape and a suggestive location, which will allow you to reach not only Corinaldo, but also the other characteristic villages, such as Sirolo and Numana.
E.C.